#MugSwap2013 has officially ended for this year. And I have to say that officially it was fun.
Fun was waiting for my swap partner to receive her goodies. I learned that we had a lot in common. Shopping for someone I never met in person was harder than expected, but basically I friend-ed a stranger whole heartedly. If you are curious I sent this goody box to Kelsey of PoofyCheeks.
Last Thursday I come home after my four hour class, walked the dog, and found this little brown box of love in my mail box.
I opened it up thinking that I should be off to bed, but the excitement drove me.
The best surprise came with a lesson I shared on Friday. I filled up my new mug and got a happy faced surprise in the morning. I sipped on my "morning juice" thinking about the fact that the person shopping for me did all the same things I did. My mug came from AMothersDesign, and she was so sweet to select this mug.
Now I have two new friends!
This was my first swap of any type and it was a fun experience. I am now wondering why I have never done something fun like this with my current friends? I think that would be even easier. I know them already, right? I might just pack up a little box of fun and send it off, just becuase. Maybe.
Did you follow along? Have you participated in a swap?
If you are interested in checking out what mug swap was like for other bloggers we have all linked up and you are welcome to check it out here;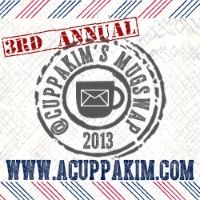 Written by