Wow, it's Friday already?
That means another week has gone by already!

Saturday we did some planting. DD and I. She put rocks in buckets and I did the rest. I planted a tomato plant, and strawberries. I also planted a few things from seeds and transplanted the Aloe Vera. Hopefully all goes well. My lettuce has been nothing but a disaster, and cilantro has a short lifespan, so mine is done.
I got an early Mother's Day surprise. Remember way back when I was
Sending Cheer
? I sent a package to Afghanistan? Well this is what I got in return! Completely unexpected and super super sweet. Totally brought a smile to my face.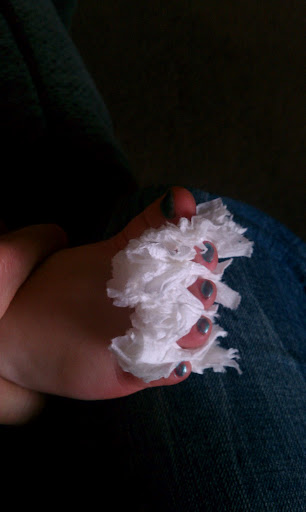 DD was kinda having a bad day. She has been a little sick since Monday, progressively getting worse each day. I though that I would do something fun that might cheer her up a bit. So I painted her toe nails. She kept pointing at mine, so why not? It's not going to kill her and I don't do it all the time.
So when/if you decide to paint a little lady's nails, this could be the result. I was talking on the phone while finishing up. I saw her grab the nail polish bottle, but for some reason I didn't think she could open it. WRONG MOM! I didn't realize what was going on until I saw a blue paintbrush going towards her leg …. eeek. I also hardly use nail polish and therefore I do not have remover. Here I was running next door to borrow some to remove it from her leg. Oh well lesson learned.
Tea party anyone?
So here are the strawberries. Relocated. Into the shade. They are allegedly full sun plants. Translation 6+ hours of sun. Liars. See the curled leaves? Tuesday they were drooping. I moved them out of the sun and gave them a tiny amount of water. Most of what drooped perked back up, but still dried out a bit and curled. Wednesday morning I drilled more drill holes in the bottom and saturated the soil. At first I was going to move them back into the sun, but changed my mind and left them where they are. They get some early morning direct light and late afternoon. For now they are happy again. *Fingers Crossed*
Check out what some other Insta Friday bloggers are up to.
Written by