Happy Friday!!
I really wanted cookies. Like really, really. We had no ingredients, like none. So I found a recipe in the book that I could make with what we had. Ingredients, flour, sugar, butter … perfect I had that. I started making shortbread cookies. I should have read further than the ingredients, because those cookies require rolling … ugh. However I am really glad that I made them. They are a perfect cookie to make with kids. Why? Because kids like to shove handfuls of whatever in their mouth. These cookies have no egg in them, so they are kid cooking safe.
This was me on mothers day. Reading a container gardening book that S got me, while getting a pedicure ….. relaxing.
Corny? Maybe. I thought that it was funny. No that is not a mirror. Yes it is a hand dryer. Yes my hair is blowing around all crazy. Oh and yes Avengers was great, also on Mother's Day.
Finally one lace side is complete. At this point the second on is done with the lace and just completing the trim. Then I'll have a million more stitches to pick up and complete the neckline, yeay!
This is a photo I sent to S while he was at work on Monday. I love the speeding legs in the background. Disc golf discs make great building blocks. Kind of a Jetsons like building. Apparently he thought that was a terrible idea for them. So this is what followed;
What are you looking at? Hole 14, stroller with two babies, and two disc golf bags. Family disc golf day.
If you look over his head, to the right of the tree, that white thing is the disc he threw.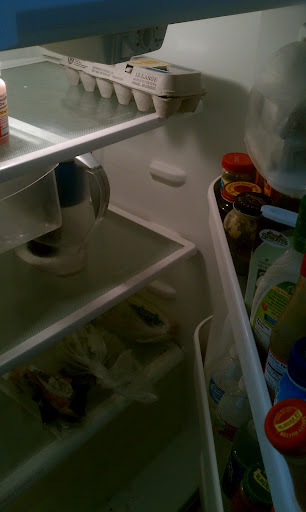 Seriously. I can't tell you the last time that we went grocery shopping, or cleaned the fridge. I'm running out of things I can just throw together.
However we had this for lunch yesterday. It became Shepard's pie with out meat. I used red kidney beans instead. It actually came out pretty good. I even used the toaster oven because it was hot again yesterday, and I didn't want to use the oven.
Gwen
Written by