Dearest readers now that I am no longer busied by my class I have more time to do things I like. I have no looming essays or research papers, so that leaves time for fun reading again. Since finishing my class on 5/31 I have read two books and I am a third of the way through another. Woo. I thought it would be fun for us to all participate in a virtual book club. This will be a regular thing if I find it is something that we like. There are even giveaway chances for the selected book. I'm looking forward to discussing this book with you!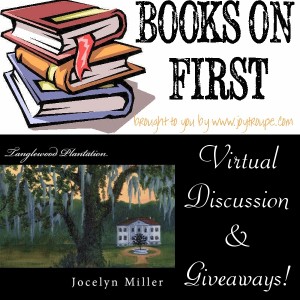 Books on First is a monthly, virtual book club that goes live on the first of every month. This is a perfect fit for book lovers who just can't always get the book read by book club night but still want to share their love of good books with other people who love good books. To sweeten the pot, we have a "door prize" each week at our "meetings" and one of our "club" members will go home with a copy of that month's book. (Kindle Edition!) The only thing missing is the snacks!
This month we will be discussing Tanglewood Plantation. Please pull up a comfy chair and join us for this one. Here's what Amazon has to say about it:
Chicagoan, Summer Woodfield, is in for the surprise of her life when she inherits the family estate, an antebellum rice plantation in Georgia. Not only is the old plantation in ruin, but comes complete with a cast of characters–characters long dead. The discovery of antiquated love letters stored inside a trunk in the attic sparks uncontrollable curiosity, and especially a purposely placed thumbprint on one of the letters. When Summer touches the print, she is inadvertently whisked back in time to the Civil War, not as the mistress of the manor as she dreams to be in the 21st century, but as a slave on her own plantation! Trapped in the clutches of a devastating war as a servant to her ancestors, she discovers the forbidden secret of her inheritance, while a love lost in the passage of time is rekindled…a love that holds her hostage between the past and the present.
Get your copy here!

Participating Blogs:
Week 1 Giveaway:
Week 2 Giveaway:
Week 3 Giveaway:
Week 4 Giveaway: